MemberList Mover
by
MicroSoftware Company
Coder's :
Panel@nimbuzz.com  [
Shahin Gholaminezhad
]
Duroqin@nimbuzz.com  [
Nima Zare
]
1-You can move your addlist to your memberlist rooms
2-You can online Member Bot
   Command's of seccond bot:
    1.m/Your iD
    2.member
    3.mem/RoomName
*Your Bot iD Sould be Admin in your room.
=========================
Farsi :
Salam be hame doostaye golam
Hamoontor ke az esme topic maloome memberlist mover hastesh
ke 2ta kar anjam mide
1- shoma mitoonid ye iD pw bedid va addlistesho tooye roometoon mem konid.
2- mitoonid ye bot online konid va kasayi ke tooye addlisteshan PVsh m/iD type konan va mem beshan
in halate dowom 3 halate
    1.m/iD [iD ro ke midid mem mikone]
    2.member  [kasi member type karde mem mishe]
    3.mem/RoomName   [kasi ke mem/roomname  type karde ro tooye roomi ke gofte mem mikone]
*Tavajoh bayad hatman iD bot tooye roometoon admin bashe.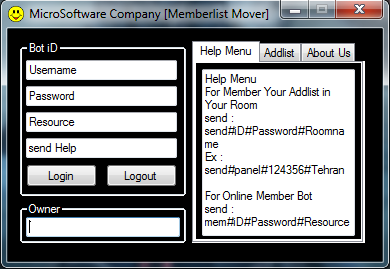 DownLoad Link
SCAN exe File