Khob Salam Khedmate Doostan . Goftam Amoozeshe Kar Ba Mediaplaye Va Ejra Kardane Seda Ro HamDar B4A Yad Bedam Chun Karbord Dare . Shayad Shoma Doost Dashte Bashid Hengame Baz ShodaneSoftetoon Ye Sedaye Khas Bede Ya Hengame Peygham Dadan Ha Seda Bede Ya Hengame Click KardanRooye Gozine Ha Seda Bede O ...Khob Kheili Sade Shoroo Mikonim :Tooye Ghesmate Sub Globals Yek Mediaplayer Tarif Mikonim:
Code:

Dim mp As MediaPlayer
Tooye Voide Button_Click Emun Ham:
Code:

   mp.Initialize
   mp.Load(File.DirAssets,"tiktak.mp3")
   mp.Play
Tozihat Dar Morede DirAssets O ... Ghablan Tekrar Kardim Chandin Bar Va Fkr Nakonam Niaz Be Tozih Dashte Bashe.Age Bekhayn Options Haye Bishtari Az Mediaplayeri Ke Be Esme mp Tarif Kardim Bebinid Mitoonid mp. Ro BezanidTa Tamamie Options Ha Baratoon Biad: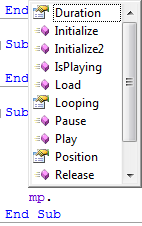 Bazi In Gozine Ha Baraye Media Player Va Pakhshe Music Karbord Daran Masalan Pause Baraye Motavaqef ShodaneAhang Dar Hengame Pakhshe Ya Stop Baraye Motavaqef Shodane Kamele Ahange Ejraeiie.Ya Duration Baraye Gereftane Zamane Pakhshe Music Be Intervalle Ke Har 1000 Tash Mishe 1 Sanie.Masalan Ma Age Bekhaym Bedoonim 1 Ahang Chand Sanie Ast Mitoonim Az Code Zir Estefade Konim:
Code:

Label1.Text = mp.Duration / 1000
Ya Yeki Dg Az Gozine Ha Ke Karborde Ziadi Mitoone Dashte Bashe Mizane Volume Sedast Ke MisheTanzimesh Kard.
Code:

mp.SetVolume(1, 1)

1 E Samte Chap Mizane Seda Az Mic E Samte Raste Va 1 E Samte Rast Mizane Seda Az Mic E Samte Chape.Note: Volume Bayad Ye Adad Beyne 0 Va 1 Bashe.Amoozeshe Kar Ba Timer O Progressbar Ham Ke Tooye Forum Be Soorate Tasviri Hast.Age Kasi 1 Koochooloo Zerang Bashe Ba Hamin Amoozesh Ha Mitoone Ye Media Player BeneviseKe Progressbar Hamrah Ba Time Music Jolo Bere !!!
Doostan Kheili Daran Kam Kari Mikonan . Tavaqo Bishtar Az In Harfast . Source Amoozesh Haei Ke Midim Ro BezaridTooye Ghesmate My Basic4Android Application !!!Movafagh Bashid

Last edited by Mehr,an on Mon Aug 04, 2014 7:26 pm; edited 1 time in total (Reason for editing : Add Note)