Salam Doostan
Khob . Goftam Ye Amoozeshe Dg Bedam Dg Beram Dars Bekhunam
Tooye In Seri Amoozesh Mikhaym Behetoon Yad Bedim Ke Chetori Baraye Abzar Haei
Ke Tooye Form Etoon Darid Rast Click Bezarid,
Kheili Sade Ast.
Az Abzar Hatoon Yek " contextMenuStrip " Dar Form Add Konid.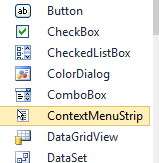 Badesh contextMenuStrip1 Be Formetoon Ezafe Mishe.
Roosh 1 Bar Click Konid Ta Namayesh Dade Beshe Ta Gozine Haei Ke Mikhayd
Ro Be contextMenuStrip1 Ezafe Konid.


Khob Ma Gharare Vaghti Rooye Masalan Textbox1 RightClick Kardim In Menu
Baraye Ma Neshun Dade Beshe Pas Bayad 1 Textbox Add Konim Tooye Form.
Badesh Vase Inke Bad Az Click Rooye Textbox , contextMenuStrip Namyesh Dade Beshe
Bayad Biaeim Tooye Rooydade Form_load , contextMenuStrip Ro Be Textbox Nesbat Bedim. Pas:

Code:

private void Form1_Load(object sender, EventArgs e)
{
textBox1.ContextMenuStrip = contextMenuStrip1;
}

Khob Badesh Mimune Bahse Code Nevisie Gozine Haei Ke Ezafe Kardim.
Rooye Har Gozine Duble Click Mikonim Va Code Haye Marboote Ro Behesh Midim. Masalan:

Code:

textBox1.Copy();
Code:

textBox1.Cut();
Code:

textBox1.Paste();

Khob . Kare Ma Tamoom Shod .
~~~~~~~~~~~~~~~~~~~~~~~~~~~~~~

Dar Zemn Yadam Raft Ye Nokte Ro Begam.
Shayad Bekhayd contextMenuStrip Ro Be Khode Form Nesbat Bedid Ke Ba Right Click
Kardan Rooye Khode Form , ContextMenuStrip Baz Beshe.
Baraye In Kar In Code Ro Dar Rooydade Form_load Gharar Midim:


Code:


this.ContextMenuStrip = contextMenuStrip1;
// Manzoor Az "this" Hamun Form1 Ast(Hamun Formi Ke Dakhele Rooydade Form_loadesh Code Ro Gharar Dadim)

Soft Ro Run Konid Va Lezzat Bebarid Az RightClick Ekhtesasie Khodetoon.
Baraye Tashakor Az Alamate Estefade Konid.
Dar Soorati Ke Soal Ya Moshkel Dar In Mored Dashtid Tooye Hamin Topic Matrah Konid.
~~~~~ In Amoozesh Edame Dare ~~~~
Last edited by lvleti on Mon Jun 10, 2013 11:30 am; edited 2 times in total